2018 GPA Fall Chapter Awards
Each year, GPA rewards local communities and regional commissions for their work to make Georgia a better place to live. At the GPA Fall Conference held in Jekyll Island, GA, in September, the 2018 Chapter Awards were given to plans and projects that showed innovation, transferability, quality, effectiveness of implementation, comprehensiveness, public participation, technology, equity, sustainability and collaboration. Congratulations to all of this year's award winners!
---
Award Category: Distinguished Planning Leadership
Award Winners: Adriane Wood
Summary of the Entry: Adriane Wood was a leader with the Georgia Department of Community Affairs for the last 20 years where she served a majority of her time in the Office of Planning and Environmental Management. She is known for her roles in developing and implementing the Department's PlanFirst program, maintaining success stories and best practices, and conducting numerous Community Planning Institute Workshops. Prior to this role, she managed DCA's Region 6 Office of Regional Services and worked for the Middle Georgia Regional Development Center for 14 years. We would like to take this opportunity to thank Adriane for her decades of service and leadership in Georgia's planning community.
Accepting the award: Adriane Wood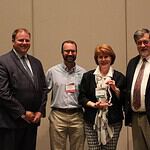 ---
Award Category: Distinguished Elected Leadership
Award Winners: Senator Brandon Beach
Summary of the Entry: Senator Brandon Beach has been a powerful advocate for transportation during his decades of service to the State of Georgia. In 2001, Governor Sonny Perdue appointed Brandon to the board of Georgia Regional Transportation Authority (GRTA), and he was then was elected to the Board of the Georgia Department of Transportation from the 6th Congressional District in 2008. Senator Beach was first elected to the State Senate in 2013 where he represents portions of North Fulton and Cherokee Counties.
During his tenure as a State Senator, Brandon has brought awareness to transportation and transit issues.  He began the conversation around regional transit needs by recording a video of a trip from Kennesaw State University to Gwinnett Arena using only public transit services.  The trip required three services, three modes of payment, and over 3 and ½ hours to complete. As Chairman of the Senate Transportation Committee, and through his partnership with Representative Kevin Tanner, Senator Beach was responsible for spearheading the passage of House Bill 930 in 2018 establishing the Atlanta-Region Transit Link (ATL) Authority, a regional transit authority for the 13-county metro Atlanta region. In addition to being named Executive Director of the North Fulton Community Improvement District in January 2018, Brandon previously served as President and CEO of the Greater North Fulton Chamber of Commerce. We would like to recognize Senator Beach for his commitment to transportation and transit in metro Atlanta with the Distinguished Elected Leadership Award.
Accepting the award: Senator Brandon Beach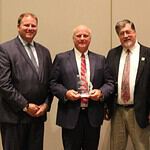 ---
Award Category: Outstanding Planning Process
Project Name: Envision Athens
Award Winners: Athens-Clarke County
Summary of the Entry: Envision Athens is a community-wide effort to develop a common vision for the future of Athens-Clarke County. This visionary, multi-dimensional strategy will guide community and economic development for the next 20 years. The planning process entailed extensive stakeholder and community engagement, thoughtful community assessment, and strategic research and analysis focused on community issues. Envision Athens is a great model that can be utilized within other communities suffering from the rising cost of living, transitioning employment sectors, an aging population, and poverty.
Accepting the award: Kyle May (planningNEXT), Erin Barger (Envision Athens), Gavin Hassemer (Athens-Clarke County)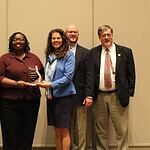 ---
Award Category: Outstanding Planning Document
Project Name: Lenox Road Corridor Study
Award Winners: Buckhead Community Improvement District
Summary of the Entry: The Lenox Road Corridor Study is one project within the BUCKHEAD REdeFINED initiative. The project team used a multi-disciplinary planning and design approach with a highly collaborative community involvement process. The result was a grand vision of Lenox Road as a signature street that reclaims the roadway and places less emphasis on vehicular traffic and more emphasis on multiple modes of transportation, connectivity, streetscaping, and urban design. The project team conducted extensive public engagement through a variety of innovative formats, including a three-day charrette, to capture a broad spectrum of input as unique as the plan itself.
Accepting the award: Ralph DeNisco (Stantec)
---
Award Category: Outstanding Initiative
Project Name: City of Peachtree Corners Innovation Hub Master Plan
Award Winners: City of Peachtree Corners
Summary of the Entry: The Peachtree Corners Innovation Hub Master Plan is an original and innovative district plan focusing on redevelopment, mobility, and catalytic projects to create an optimal environment for attracting technology-based entrepreneurial startups. It operates on the assumption that an integrated approach is the most effective means to generating local jobs and economic uplift, while enhancing community livability. A reviewer noted: "The plan was well developed with an innovative concept to solve an issue that many communities face throughout the country. It is also very comprehensive and aims to achieve sustainable and best practices."
Accepting the award: Diana Wheeler and Jeff Conkle (City of Peachtree Corners) and Shawn Williams (City Economics + Design, formerly of MXD Development Strategists)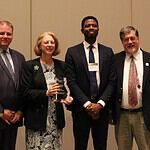 ---
Category: Outstanding Initiative – Honorable Mention
Project Name: Atlanta BeltLine Westside Trail
Award Winners: Atlanta BeltLine, Inc.
Summary of the Entry: The completion of the Westside Trail represents one of the most significant milestones of the Atlanta BeltLine, a sustainable transportation and redevelopment project that will ultimately connect 45 intown neighborhoods via a 22-mile loop of multi-use trails, transit, and parks. At three miles, the Westside Trail is the longest continuous segment of the Atlanta BeltLine corridor constructed to date, and features a permanent 14-foot-wide concrete trail; 16 access points; energy-efficient, pedestrian-scale LED lighting throughout the trail; and 20 public safety cameras.
Accepting the award: Keyetta Holmes (City of Atlanta)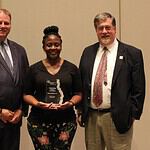 ---
Category: Outstanding Public Outreach and Journalism
Project Name: Peachtree Road Streetscape and Rail Trail Concept Plan
Award Winners: City of Chamblee
Summary of the Entry: The Peachtree Road Streetscape and Rail Trail Concept Plan presents community engagement at its best. The project team went above and beyond traditional public outreach efforts, which included a great variety of methods to positively engage all citizens and population groups, such as a community survey, an open house for property owners, social media posting, press releases, and a Mid-City Stroll street festival event. Several hundred residents and business owners provided input during development of the concept plan. The outreach process for this plan demonstrates the importance and value of actively engaging and obtaining input from the general public for project success.
Accepting the award: Zach Ponds (City of Chamblee)