GPA 2023 Fall Conference

GPA will return to Savannah in 2023 for its three-day Fall Conference, which will take place on September 20 – 22. The conference will be held at The DeSoto, a historic hotel dating back to the early 1800s, located on Madison Square in the Savannah Historic District.
Early Rate
through 8/18
Regular Rate
8/19 - 9/14
On Site Rate
9/15 - 9/22
GPA Member
$375
$420
$465
Non GPA Member
$420
$460
$500
Retired/Unemployed/
Student
$200
$200
$220
Planning Official
$200
$200
$200
One Day Registration
Wednesday Only
$190
Thursday Only
$250
Friday Only
$160
We are now only accepting on-site registration. On site registration opens at 11:00 am on Wednesday 09/20 and 8:00 am on Thursday 09/21 and Friday 09/22.
Have questions?  Contact Amanda Hatton, VP Programs, for more information.
Download the Conference Guide App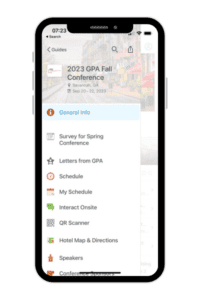 The GPA Conference program guide is paper free! Download the conference app before you arrive to plan out your schedule, get to know the speakers, see special events, and learn about our sponsors who make this event possible.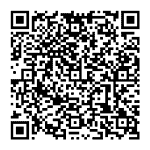 Download the Guidebook app here to access the guide on your iOS and Android device. Or scan the QR Code.
If the Guidebook App is already downloaded on your phone, scan the QR Code or search 2023-gpa-fall-conference to pull up the latest guide.
Hotel & Conference Location
The DeSoto Savannah
15 East Liberty Street
Savannah, GA 31401
While the group rate has ended, if you still need to book a room, you may book direct at their regular rates.
The hotel is valet parking only. GPA has a discounted valet rate of $32 per night. There are city parking garages nearby.
Alternate Hotels
As an alternate to The DeSoto, attendees may choose to stay at other nearby hotels, which are within walking distance of the conference location:
Courtyard Savannah Downtown/Historic District
Cambria Savannah Downtown Historic District
Tryp by Wyndham Savannah Downtown/Historic District
GPA has not reserved a block of rooms at these hotels – registrants will pay the regular rate. Please note that these hotels are serviced by the free DOT shuttle route which goes directly by the conference hotel.
Keynote
Nature Based Solutions: Designing Resilience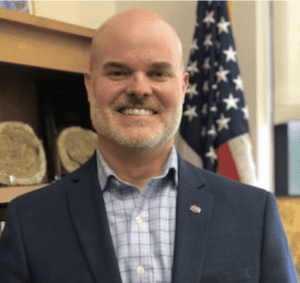 The keynote luncheon on Thursday afternoon will feature Dr. Todd Bridges, a Professor of Practice in resilient and sustainable systems in the College of Engineering at the University of Georgia. Prior to joining UGA in 2023, Dr. Bridges served for 17 years as the Senior Research Scientist (ST) for Environmental Science for the U.S. Army and the U.S. Army Corps of Engineers, where he founded and led the Corps' Engineering with Nature® Program. Among his many publications, he led a five-year collaboration across the public and private sectors to develop and publish International Guidelines on Natural and Nature-Based Features for Flood Risk Management. Dr. Bridges received a Distinguished Presidential Rank Award from President Biden in 2021 for exceptional leadership, accomplishments, and service.
Taking the AICP Exam this Fall? 
If you are planning to take the AICP exam, make sure to attend our AICP exam review courses on Thursday, September 20 at the Fall Conference in Savannah. Thursday exam prep sessions include the exam overview, law, ethics and leadership management courses.
It's not too late to attend the Fall Conference! Registration will be available on site.
As of Monday, September 18, there are a few spots left for these Mobile Sessions: Skidaway Island tour and Savannah Confidential Walking Tour on Thursday and Downtown Bike Tour on Friday. You can register onsite when you arrive to ensure your spot!
Plan to Stay the Weekend!
Your local host committee has been planning walking, biking, and trolley tours, plus happy hours and late-breaking technical sessions featuring national and regional resilience best practice. Plan to stay the weekend! Not only are we offering a Saturday tour of the beautiful and meaningful Sapelo Island, but it's also Jazz Fest in Savannah the same weekend, with free shows in Forsyth Park.
Meet up at Forsyth Farmers' Market Saturday morning, and eat popsicles for breakfast, listen to Farmer Joe's song, and fill your basket with watermelons and pumpkins.
See all that Savannah has to offer!