Collecting, Managing & Making Decisions from Data to Evaluate KPIs
June 7, 2021

-

June 10, 2021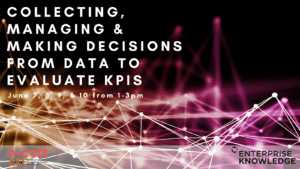 The workshop is directed toward transit agency staff (service planners, operations, etc.) who create and/or consume data. This workshop will directly address existing and improved data management practices through customized, hands-on activities, primers, and facilitation techniques to meet participants' specific needs.
The four seminars are:
The Value of Data for Transit Agencies: Monday, June 7, 1:00 – 3:00 pm
Working with Data: Tuesday, June 8, 1:00 – 3:00 pm

Data Governance: Wednesday, June 9, 1:00 – 3:00 pm

Tools and Advanced Applications: Thursday, June 10, 1:00 – 3:00 pm
Participants may sign up to attend all, some, or one of the sessions based on availability and interest. Although participants do not need to attend all seminars, those who attend and participate in all four seminars will receive a certificate, "Introduction to Data Management Certificate of Completion," that represents the skills and knowledge they will have acquired.
Each seminar is limited, so register early.