First Thursday Virtual Series: Equity in the Commons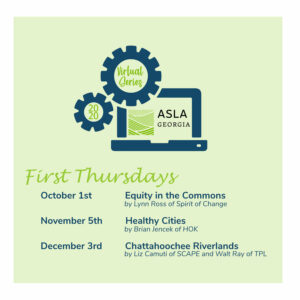 We are teaming up with the Georgia Chapter of the American Society of Landscape Architects for a series of three "First Thursday" virtual webinars, beginning in October. There is a lot of crossover between planning and landscape architecture, so please consider attending one or more of these webinars to support this worthy cause! CM credits will be applied for, and they will take place during lunch time. 
The cost for each webinar is $35, and will benefit GA-ASLA's Master of Landscape Architecture Scholarship at the UGA College of Environment and Design, which is awarded annually to an emerging leader in landscape architecture who is actively involved in ASLA.
Please mark your calendars:
October 1 – Equity in the Commons, presented by Lynn Ross of Spirit of Change
Nearly every trend line shows that the U.S. is in the grips of increased polarization, segregation, social isolation and economic inequality. There is an urgent need to reverse these trends in pursuit of more equitable communities and public spaces. Reimagining the Civic Commons is a national initiative that seeks to counter economic and social fragmentation in our cities by revitalizing and connecting public places to bring together people from different backgrounds. Join Lynn M. Ross, founder of Spirit for Change Consulting, LLC for a discussion exploring the power of public spaces and strategies for creating an equitable civic commons.
The deadline to register is September 28, 2020. This event is open to all GPA members! 
Upcoming Dates
November 5 – Healthy Cities, presented by Brian Jencek of HOK, and hosted by GPA President-Elect, Whitney Shephard of Transport Studios
December 3 – Chattahoochee Riverlands, presented by Liz Camuti of SCAPE and Walt Ray of the Trust for Public Land
Questions? Please email Lauren Blaszyk, GPA District 3 Director or call 470-387-8930.