First Thursday Virtual Webinar: Healthy Cities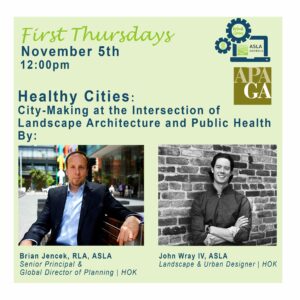 We are teaming up with the Georgia Chapter of the American Society of Landscape Architects for a series of three "First Thursday" virtual webinars.
November 5 – Healthy Cities, presented by Brian Jencek of HOK, and hosted by GPA President-Elect, Whitney Shephard of Transport Studios
Great cities are defined by their great streets and open spaces. Yet the very existence of cities continues to be challenged by pandemics and climate change. Join this session to learn how landscape architecture is redefining cities through the lens of human health and resilience.
CM credits will be applied for, and they will take place during lunch time. 
The cost for each webinar is $35, and will benefit GA-ASLA's Master of Landscape Architecture Scholarship at the UGA College of Environment and Design, which is awarded annually to an emerging leader in landscape architecture who is actively involved in ASLA.
Please mark your calendars for the following dates and topics:
December 3 – Chattahoochee Riverlands, presented by Liz Camuti of SCAPE and Walt Ray of the Trust for Public Land
This event is open to all GPA members! 
Questions? Please email Lauren Blaszyk, GPA District 3 Director or call 470-387-8930.