Green Reads Book Club
September 18, 2019 @ 6:30 pm

-

8:00 pm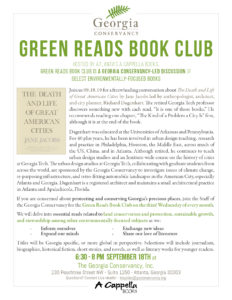 Join us for a freewheeling conversation about The Death and Life of Great American Cities by Jane Jacobs led by anthropologist, architect, and city planner, Richard Dagenhart. The retired Georgia Tech professor discovers something new with each read. "It is one of those books." He recommends reading one chapter, "The Kind of a Problem a City Is" first, although it is at the end of the book.
Dagenhart was educated at the Universities of Arkansas and Pennsylvania. For 40 plus years, he has been involved in urban design teaching, research and practice in Philadelphia, Houston, the Middle East, across much of the US, China, and in Atlanta. Although retired, he continues to teach urban design studios and an Institute-wide course on the history of cities at Georgia Tech. The urban design studios at Georgia Tech, collaborating with graduate students from across the world, are sponsored by the Georgia Conservancy to investigate issues of climate change, re-purposing infrastructure, and retro-fitting automobile landscapes in the American City, especially Atlanta and Georgia. Dagenhart is a registered architect and maintains a small architectural practice in Atlanta and Apalachicola, Florida.
If you are concerned about protecting and conserving Georgia's precious places, join the Staff of the Georgia Conservancy for the Green Reads Book Club on the third Wednesday of every month. We will delve into essential reads related to land conservation and protection, sustainable growth, and stewardship among other environmentally-focused subjects as we:
Inform ourselves
Exchange new ideas
Expand our minds
Share our love of literature
Hosted by Atlanta's A Cappella Books, Green Reads Book Club is a Georgia Conservancy-led discussion of select environmentally-focused books.
Titles will be Georgia specific or more global in perspective. Selections will include journalism, biographies, historical fiction, short stories, and novels, as well as literary works for younger readers.
Questions? Contact Liza Mueller.