First Handbook of International Planning Education Released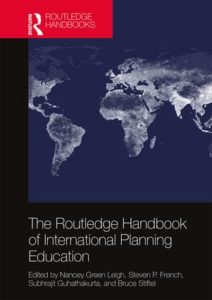 School of City & Regional Planning leaders at the Georgia Institute of Technology Nancey Green Leigh, Steven P. French, Subhrajit Guhathakurta, and Bruce Stiftel edited The Routledge Handbook of International Planning Education, released this month. The handbook is the first of its kind. It responds to the interest and need for understanding how planning education is developed and delivered in different international contexts.
"While it could be argued that international planning education has diminished relevance in an era of deglobalization, planning educators across the globe have much to learn from each other. The intent of this Handbook is to contribute to the process," said Leigh. The forty-one contributors to the handbook write about general planning knowledge, planning skills, traditional and emerging planning specializations, and pedagogy. In twenty-eight chapters, they cover the role of these topics in educating planners, the theory and methods of their subjects, key literature contributions, and course designs.
The editors note in their Introduction: "This handbook comes at a time when there are growing concerns about retrenchment of the globalization that has characterized the world economy and international society since the end of WWII. This 'deglobalization' has the potential to undo and destabilize much of the progress and international cooperation that has improved the lives of so many throughout the world."