GPA Celebrates Black History Month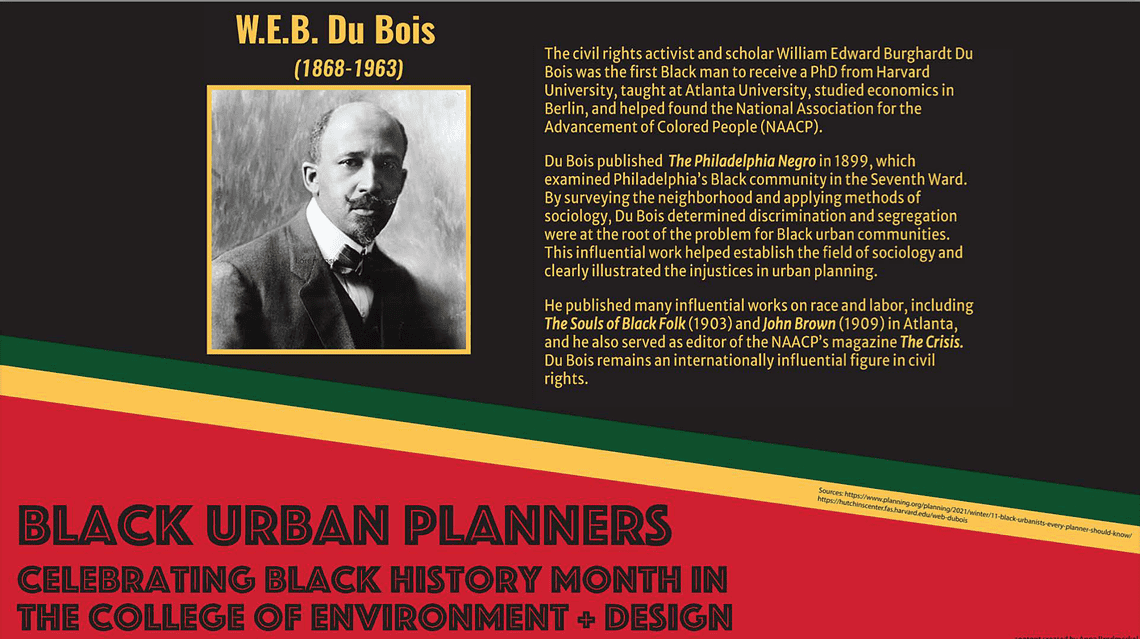 written by: Anna E. Brodmerkel McQuarrie, UGA College of Environment + Design (CED) student
In honor of Black History Month, the GPA EDI Committee has partnered with UGA's College of Environment and Design to highlight the achievements of Black planners. Celebrating the contributions of Black planners during Black History Month creates more inclusive environments and conversations, broadens our perspectives, and reminds us that it is important to learn from the past and evolve practices within our profession.
As students, we rely on our professors to disseminate information about the field of planning. However, what happens when you feel as if something is missing in the coursework? The answer is to create it yourself. In February 2021, I worked with Professor Stephen Ramos and landscape architect student Ashley Daniel to create Black History Month content for the University of Georgia College of Environment + Design (CED). Ashley and I each profiled five Black professionals from our fields and had these displayed on the monitors in the common spaces of CED. The response from students was overwhelmingly positive. The following profiles focus on 5 Black urban planners to know and are the result of a professor empowering students to create a more inclusive learning environment.
W.E.B. Du Bois (1868-1963)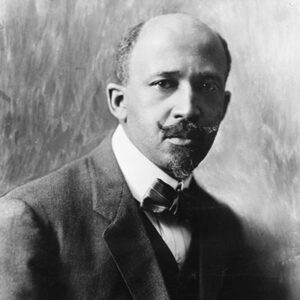 Civil rights activist and scholar William Edward Burghardt Du Bois was the first Black man to receive a PhD from Harvard University. He taught at Atlanta University, studied economics in Berlin, and helped found the National Association for the Advancement of Colored People (NAACP). Du Bois published The Philadelphia Negro in 1899, which examined Philadelphia's Black community in the Seventh Ward. By surveying the neighborhood and applying methods of sociology, Du Bois determined discrimination and segregation were at the root of the problem
for Black urban communities. This influential work helped establish the field of sociology and clearly illustrated the injustices in urban planning. He published many influential works on race and labor, including The Souls of Black Folk (1903) and John Brown (1909) in Atlanta and went on to edit the NAACP's magazine The Crisis. Du Bois went on to become an international figure in civil rights.
Samuel J. Cullers (1918-2005)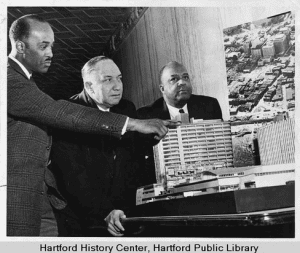 Cullers is the first professionally trained Black planner with a Master's degree in City and Regional Planning from MIT in 1952. Cullers served in senior planning leadership roles in several places including Hartford, CT; Chicago, IL; California; Toronto, Canada; and Bangkok, Thailand. In 1972, he established the Samuel J. Cullers & Associates, specializing in environmental planning and economic development. He published several essays, held roles within the NAACP and APA, and focused on fighting discrimination in society and within the planning profession filing a discrimination lawsuit in 1955.
Toni L. Griffin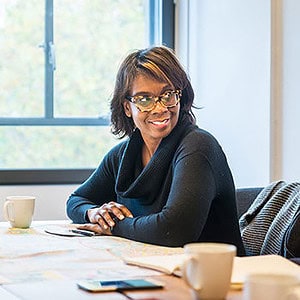 Professor Toni L. Griffin began her career as an architect and worked as a city planner in Washington, D.C., and Newark, New Jersey. Her work as a Professor at Harvard University's Graduate School of Design and in private practice at the Urban Planning for the American City is at the forefront of urban justice. Professor Griffin's The Just City Lab at Harvard develops new tools and value-based methodologies to assess the role of design within urban justice investigating social issues such as disinvestment, abandonment, racial segregation, environmental justice, and process of community participation. Griffin's contributions to the field of urban planning and design were recognized by President Barack Obama with an appointment to the US Commission on Fine Arts in 2016.
Kristen E. Jeffers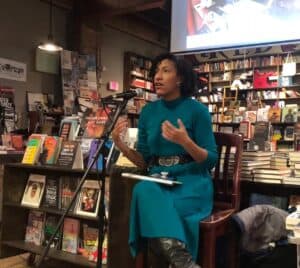 Kristen E. Jeffers (she/her) is the founder and editor-in-chief of The Black Urbanist, and her work focuses on Black Queer Feminist Urbanist thought, practice, and ethics. Jeffers is an author, textile, artist and designer, urban planner and activist with a Master of Public Affairs from UNC Greensboro. Jeffers has presented her work at the Congress for New Urbanism, YIMBYTown, Walk Bike Places, CityWorksXpo, APA Virginia, NACTO and to communities around the US and Canada. She uses her personal experiences to inform best practices in urban planning.
Maurice Cox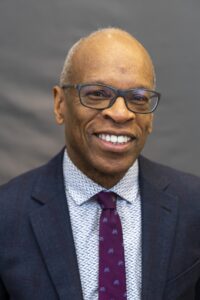 Maurice Cox is the City of Chicago's Commissioner of the Department of Planning and Development, where he leads the department in economic development, planning and zoning functions. Cox focuses on improving community initiatives and under-invested neighborhoods in the South and West sides. Cox previously worked as the Director of Planning and Development for the City of Detroit, where he designed equitable redevelopment of neighborhoods. He has practiced in Florence, Italy and formerly served as the Mayor of Charlottesville, Virginia. In academia, he was a professor at Syracuse University and Harvard University's Graduate School of Design, and an associate dean at Tulane University. He was also the Design Director of the National Endowment of the Arts under President George W. Bush and President Barack Obama, and named as one of the "most admired design educators in America" by Design Intelligence.
References
11 Black Urbanists Every Planner Should Know (planning.org)
Samuel Cullers Housing Discrimination Case, 1954-1957 – Cities, Suburbs & Schools Project at Trinity College (trincoll.edu)
Toni L. Griffin – African American Design Nexus (harvard.edu)
urbanAC [URBAN AMERICAN CITY] Toni L. Griffin
The Black Urbanist | A Black Queer Feminist Urbanist Resource created and curated by Kristen E. Jeffers
City of Chicago :: Planning and Development – Leadership
Chicago Metropolitan Agency for Planning – CMAP (illinois.gov)
---
If you would like to learn more about the EDI Committee, including opportunities to get involved, please contact the committee chair, Erin Thoresen.