It's a Wrap: GPA Mentoring Class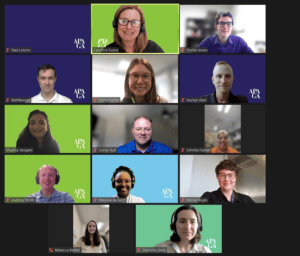 Another successful GPA Mentoring class completed the program this month. A big thanks to the committee who helped create and facilitate the sessions: Shubhangi Jangam, Rebecca Keefer, Andrew Smith, and Mollie Bogle. A round of applause goes out to our Senior Mentors as well, the program was richer because of your guidance, Corey Hull, Eric Lusher, Bruce Berger, and Rebecca Keefer (she did double-duty!).
This year's class included 9 Mid–Career Planners and 8 Emerging Planners. The group met virtually once a month for 6 months. Each meeting included a topic tailored to the interests of the participants. This year the meeting topics included a panel with the Senior Mentors, a facilitated training in the CPI 260 Leadership Assessment, a panel about planning career paths, a session on Planning Policy and Issues around Georgia, a panel addressing Sustainability in Planning, and a session where participants got to hone their elevator pitch.
An overview of the mentoring program can be found here. Please reach out to Caroline Evans to volunteer as a Senior Mentor or to get involved with the committee. Applications for the 2024 program will open in October 2023.
Our Mentees for the 2023 program were:
Hunter Abel
Amber Berg
Sara Boukdad
Johnita Daniel
Luke Derochers
Danielle Diehl
Mickey Dunnavant
Marissa Jackson
Phillip Jones
Paul Leonhardt
Paul Lorenc
Brianna McCloud