News from Around the State – District 2 Focus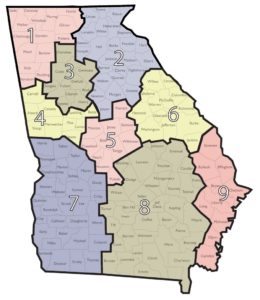 District 2 is working on some projects to bolster the local municipalities, strengthen the region, respond to pandemics (specifically Covid-19) and provide flexibility. If any of the following initiatives or projects would benefit your work or jurisdiction, please let us know and we can make some connections.
GA Mountains Regional Commission (GMRC)
In response to the Covid pandemic and its effect on the local economy, the Georgia Mountains Regional Commission (GMRC) is developing a Recovery and Resiliency Strategy for its member governments. This project will include medical accessibility assessments for each county and guidance for incorporating wellness into local community development efforts. As with Hazard Mitigation Plans, it is hoped this material will give communities the resources they need to enhance their economic resiliency and overall health.
Strategies include:
Expanding beyond land development into economic development.
Providing each company and industry with one level of planning.
Giving local government leaders information about which industries are most susceptible to pandemic scenarios, which industries are most important to their local economy, and what resources they have available in combating a pandemic.  
Assisting in getting supplies, coordinating with state agencies, and clarifying local health and safety measures.
Sugar Hill
Downtown, townhome development around the Bowl and other central community amenities continues. Bringing intown-living to Sugar Hill and strengthening the urban core, Sugar Hill has adopted a new overlay district to permit 3-story developments with rooftop verandas and art features.
ACC
Athens Clarke County is working on a few initiatives and code changes to add value and diversify options
TAD District(s) to help create improvements in selected pockets of town, including the regional mall which has potential for a major overhaul or sprawl repair.
Homeless encampment site selection and site design. The county has elected to address homelessness through a sanctioned space with shelters, amenities and an ability for provision of services.
Inclusionary Zoning efforts. The well-intentioned, awkward implementation of providing affordable housing in a state that struggles to allow it as a mandate. ACC is also working on the procedural side of this large effort that often functions more smoothly when run by a third party non-profit.
Storefront remodels in historic commercial districts in the Age of COVID, looking at design and code solutions to allow alternative dining and retail operations in response to needs for social distancing. ACC is looking at taking back public space and redefining how to interface a business and the public rights of way.
City of Monroe
Monroe recently amended their Infill Overlay District in the Zoning Ordinance to promote infill within every residential zoning district in the core portion of the City. Monroe also clarified where in the city infill should occur, and based it upon a ½-mile walk from the center of downtown. Prior to the amendment, where infill could or should occur was not well defined and the standards excluded a majority of the residentially-zoned properties in the core. Monroe is redefining their ordinances around an urbanist model with less conventional suburban development.
Monroe also recently amended their Zoning Map to quadruple the size of the Central Business District in an effort to eliminate constraints to downtown infill. The goal is to eliminate barriers to new and redeveloped properties from being required to meet parking regulations. It also seeks to encourage traditional downtown development beyond the two blocks surrounding the courthouse. 
Georgia Planning wants to hear from you and feature News from Around the State. This month, we are showcasing GPA District 2. Thank you to Marc Beechuk, AICP, ISA GPA District 2 Director for this update!