News from Around the State: District 3
GPA's District 3 encompasses much of the Atlanta region. With counties such as Cherokee, Clayton, Cobb, DeKalb, Douglas, Fayette, Fulton, Gwinnett, Henry, and Rockdale, there is always a lot happening in District 3. Communities across the District have been busy preparing a range of plans, designing new projects, and gearing up for future funding opportunities. Here's a quick summary of a few pressing issues, recent trends, and new initiatives that District 3 communities are currently tackling.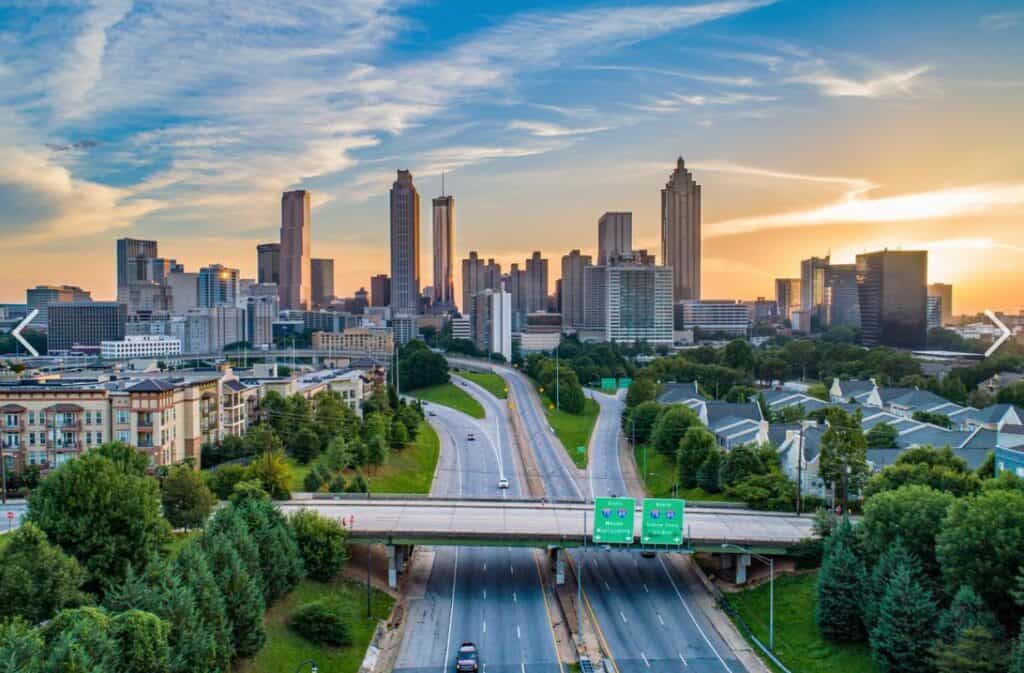 Like many of the cities and counties that comprise District 3, the Atlanta Regional Commission (ARC) has been busy with planning, analysis, and outreach work to update The Atlanta Region's Plan, unveiling new regional forecasts, which indicate that by 2050 the 21-county region will be home to 7.9 million people – an increase of 1.8 million new residents over 2020 numbers. Employment will also increase over this time period, though not at the same pace; the region is forecasted to add 860,000 new jobs between 2020 and 2050. Growth of this magnitude brings with it a number of opportunities and challenges. A few examples of several key issues and strategies communities around the region are undertaking to address them are highlighted below.
With this ongoing growth in population, housing affordability has been at the center of attention lately, especially with the COVID-induced surge in home and rental prices. Late last year, ARC reported on real estate pricing data that shows Georgia home prices in December 2022 were up 4.7% over last year with many fewer homes sold – emphasizing that a lack of supply is a partial driver of increased housing costs. In addition, the Federal Reserve's on-going efforts to tackle inflation by raising interest rates have made mortgages unobtainable for large segments of the population. Sadly, the affordability crisis does not only pertain to homeownership, as rental rates have also been on the rise. Data from Zillow's Observed Rental Index (ZORI, a measure of the typical observed market rent rate across the region) show a five-year increase of 53% in the Atlanta metro area – the second highest increase behind Miami. Among Atlanta-area counties, Forsyth has the highest ZORI at $2400 and Rockdale and Clayton have the lowest ZORI at $1800. Housing affordability isn't just an issue facing the Atlanta region – the Georgia Planning Association has included "available, affordable, and attainable quality housing" as one of its legislative priorities. And communities throughout the region are responding to affordability challenges with a variety of strategies, including increasing housing supply, preserving the supply of affordable housing, establishing policies that allow for more and varied types of housing, and new financing mechanisms, among others. ARC's Metro Atlanta Housing Strategy website provides a number of resources on strategies and tactics. 
Another front-and-center topic in the region is pedestrian safety. It is particularly an issue for the most vulnerable of our neighbors – children, older adults, and people with tenuous housing situations. Georgia and the metro Atlanta area consistently rate among the highest rates of pedestrian fatalities. Georgia ranks ninth in the country in pedestrian deaths per 100,000 people and experienced the 3rd highest increase in the number of pedestrian deaths between 2020 and 2021, behind Florida and Texas. Unfortunately, we are not alone and are part of a broader national trend of increasing pedestrian deaths. The number of people struck and killed while walking continues to break records each year, with a spike in pedestrian deaths during the pandemic. The problem is multi-faceted, and is due, in part, to a lack of investment in quality pedestrian infrastructure, dangerous driver behavior, larger vehicles, and increased speeding. 
On the bright side, communities around metro Atlanta are making significant investments in non-motorized infrastructure and in plans for bicycle, pedestrian, and trail facilities. In the 2022 TIP project solicitation, local governments submitted applications for 14 bike/ped projects and 26 multiuse trail projects. Working in partnership with the Regional Safety Task Force, ARC developed the Regional Safety Strategy – a data-informed analysis of safety issues that identifies specific actions for ARC and its partners proactively improve safety. Local communities throughout District 3 are taking action to address pedestrian safety needs, from adopting Vision Zero policies to completing bicycle, pedestrian, and trail related plans. A few highlights include, but are not limited to:
As we look toward the future, the Safe Streets and Roads for All (SS4A) program will help address safety with more than $5 billion in discretionary grants available to MPOs and local governments to develop Comprehensive Safety Action Plans and Implementation of action plans. 
Recent weather events have again brought attention to the increasing frequency of intense storms and heavy precipitation that human-caused climate change are bringing to District 3. The Atlanta-area's holiday "arctic blast" wreaked havoc on communities, with burst pipes and power outages the most common impacts to local infrastructure. Interest in sustainability and strategies to tackle climate change is growing, and communities across District 3 are taking steps to reduce their environmental footprints and adapt to changing conditions. ARC recently recognized six communities (Chamblee, Decatur, Suwanee, Cherokee County, Fulton County, and Gwinnett County) for their sustainability and environmental resilience efforts as part of the Green Communities program. Further, the growing interest in electric vehicles – in part as a way of reducing tailpipe emissions – is pushing Georgia communities to invest in production and manufacturing, charging infrastructure, and solar energy. By some forecasts, electric vehicles will make up as much as 47% of the new car market in 2030. To help guide communities, coordinate across jurisdictions, and leverage federal funding, ARC will soon be starting on a Regional Electrification Plan to engage a broad base of stakeholders, assess current and projected trends impacting electrification, and establish a regional vision and strategy for projects and funding. 
Through proactive and collaborative planning, we can help tackle these and other pressing issues. GPA members throughout District 3 and across the state look forward to working with you.