News From Around the State – District 4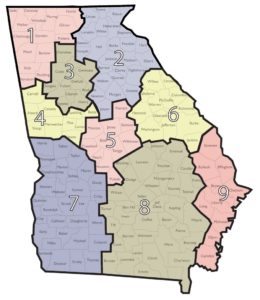 GPA is pleased to feature District 4 this month to highlight recent development and planning highlights, including the designation of a Rural Zone Community, major developments, a trail expansion, new and renewing PlanFirst communities, and adaptive reuse of a historic mill in LaGrange. Thank you to District 4 Board Member, Chad Jacobs, Planning and Development Director in Griffin for this update.
Rural Zone Community
In an effort to promote additional economic development, the City of Thomaston in Upson County was recently among ten cities granted Rural Zone Community designation. The Rural Zone Community program, which was signed into law in 2017 for communities with populations under 15,000, provides enhanced state tax credit incentives to promote the revitalization of vacant rural downtowns. Thomaston businesses will be able to obtain tax credits for job creation activities and investment in downtown properties along with the renovation of properties occurring within the Rural Zone.
Developments of Regional Impact
Three counties in District 4 have seen growth demand on projects which have been subject to the Developments of Regional Impact (DRI) review. Prologis is a 1,800,000 square foot warehouse and distribution center to be located in Butts County with a portion of the project spilling over into Spalding County. The site will include two structures and approximately 750 parking spaces. Residential demands in Coweta County has seen the submittal of 750-unit single-family and senior adult residential project. And Lamar County has not one but two DRI projects, with the first being a request for a quarry on 331 acres and the second an expansion of the Lamar County Regional Solid Waste Authority Complex.
Biking and Hiking Trails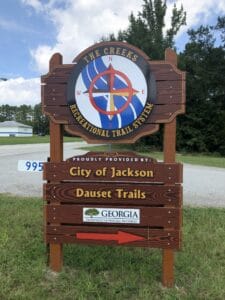 Butts County, the City of Jackson, and Dauset Trails have partnered to create The Creeks Trail system. Designed for mountain biking and hiking, the first phase provides an addition of 10.75 miles of trails connecting users to many more miles of trails at Dauset Trails. Construction of the trails was funded by a $200,000 Recreational Trails Program Grant from the U.S. Department of Transportation and the Georgia Department of Natural Resources with additional resources provided by the City of Jackson and the Daughtry Foundation. The Creeks showcases the natural beauty of surrounding virgin forests and lush vegetation home to numerous birds and wildlife species routinely spotted in their diverse habitats along the trail and four creeks.
CDBGs and PlanFirst
Seven communities were awarded Community Development Block Grants in 2021. The City of Hogansville was awarded $550,029 and Flovilla received $644,016 for water improvements. The cities of Barnesville, Greenville, Griffin, and Warm Springs along with Spalding County were awarded $750,000 grants to address water and sewer improvements. The total award amount for these seven communities is $4,944,045.
Three cities in District 4 have been recognized for their hard work and dedication in implementing their Comprehensive Plans. Upon submission and review of their applications, the cities of Woodbury and Carrollton were newly designated as PlanFirst communities for 2022-2024. The city of Griffin was renewed as a PlanFirst community for 2022-2024 as well. 
Historic Preservation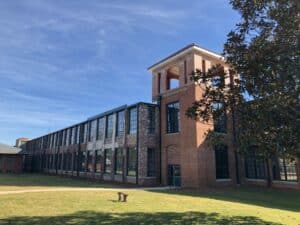 In LaGrange, the Dixie Cotton Mill, built in 1895, has been revitalized into a premier residential loft community called "The Lofts of LaGrange."  2019 saw the property rezoned from G-I, General Industrial to C-1, Neighborhood Commercial, by the City of LaGrange. The $16 million project utilized the historic preservation tax incentive program to help offset some of the cost.