News from Around the State – District One
Exciting things are happening in District One, Northwest Georgia!
On September 22, 2022, Georgia Department of Community Affairs, Georgia Highlands College, and Northwest Georgia Regional Commission hosted a Qualified Local Government, Service Delivery Strategies, and Reporting Requirements workshop at the GHC Cartersville campus, with 50 local government attendees from around the region learning the latest on planning and reporting requirements and how Regional Commissions can assist local governments in compliance.  
Bartow County reports that the Cartersville-Bartow County MPO is engaged in two planning studies that should be completed by mid-November 2022: the Tennessee Street Corridor Study with Cartersville and Bartow County, and the North Bartow Interchange Feasibility Study with Adairsville and Bartow County.
In August, Governor Kemp announced Duluth Trading Company's distribution and fulfillment center in Adairsville to create 300 new jobs. 
In September, Georgia DOT held an open house on the Environmental Assessment for the Rome- Cartersville Development Corridor, a project to improve freight and passenger vehicle linkages to I-75 from Floyd and Bartow Counties. 
The Appalachian Regional Port in Crandall, Murray County, was part of Georgia Ports Authority's busiest month ever.  Earlier this year, the Appalachian Regional Port reported that it saw 73% growth from 2019-2020, and this year will expand with new cranes and additional capacity, spurring industrial development and job creation, most recently Green Galaxy Group's 400 jobs. 
With historic downtown Chatsworth and Eton, scenic Murray County is also home to historic Fort Mountain and the beautiful Cohutta Wilderness WMA with routes for hiking and driving.  
The world-class Savoy Automobile Museum opened in Summer 2022, with exhibits related to the history, beauty, and cultural diversity of the automobile, in Cartersville just off I-75.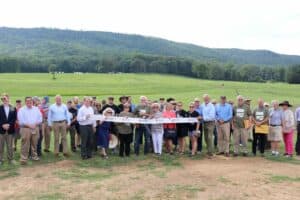 Dalton-Whitfield Historic Preservation Commission was awarded the Georgia Trust 2022 Excellence in Preservation Service award, for its work in partnership with Whitfield County, municipalities, and nonprofit historic groups to preserve historic sites including the recently dedicated Grant Farm Rocky Face Ridge battlefield, Praters' Mill, and other sites of Civil War, Native American, and 19th century industrial significance.
Rome-Floyd Planning is in the process of completing a full Unified Land Development Code update. A public draft will be available before the end of the year.  
Rome-Floyd Planning is is also working on a 5-year-work plan update, with upcoming opportunities for public participation and open houses (please see flyer). 
Rome-Floyd is partnering with UGA's Carl Vinson Institute to host the Planning and Zoning 102 training on January 17, 2023, from 9:00 am – 4:00 pm at the Rome History Center. CM credits will be available. 
In Spring 2023, the Rome-Floyd Planning Department, Bartow County, and the APA WPD will host a trivia and happy hour for planners, engineers, preservationists, and architects within the Region 1 area. Stay tuned for more details!  
These are just some highlights of the exciting things happening in Northwest Georgia. District 1 would like to acknowledge and thank each elected official, planner, planning commissioner, staff member, and volunteer that works to make their community a better place.