Remembering Jamie Cochran, FAICP
By Laura F. Beall, AICP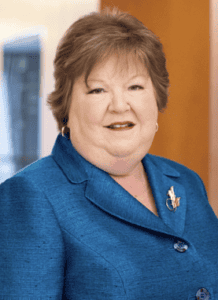 With great sadness, the planning community lost one of its best when Jamie A. Cochran, FAICP, passed away March 18, 2019. Jamie was one of the most kind-hearted, thoughtful, and generous people you could meet. She held strong to her belief in the profession and her principles that there must be a better solution and that everyone inherently is good and will do the right thing.
Over her 45-year career, Jamie accomplished many achievements. She was exceptionally proud of becoming a member of the College of Fellows of the American Institute of Certified Planners (FAICP) in 2016. Jamie spent her career in Florida and Georgia in both private and public sectors. While maintaining a full-time job, she also taught as an adjunct professor at Georgia Tech in her "spare time." Jamie prepared the following statement for her FAICP application and it best describes her career and what she viewed as important:
The heart of my planning career has three parts: (1) finding opportunities to help solve community problems; (2) seeking out young people with a strong capacity to serve as future planners; and (3) helping citizens understand their communities. To these ends, I held senior positions in state agencies with planning responsibilities; operated my own firm; taught college-level planning classes at Georgia Tech for over 15 years; and served as a trusted advisor/consultant to states, regions, and local governments to solve very real challenges facing us. I am most proud of helping (over 30) college students enter graduate school to obtain their planning degree.
Jamie's professional contributions to planning were undeniably vast and wide-ranging; however, that only accounts for a portion of her gifts. In my opinion, Jamie's personal contributions to individuals are equally, and possibly more, meaningful. She was to the core a teacher and a mentor. At her funeral, her brother shared a story that she insisted on teaching him his alphabet so he was properly prepared when he started first grade…noting that Jamie was only in second grade at the time.
She had a strong desire to shape young minds and instill a solid foundation of planning principles, even to non-planners. Jamie volunteered to help Gary Cornell with the AICP Exam Prep courses since 2006 and consulted at both the state and national levels on the curriculum. Jamie has been an indispensable source of professional development expertise. Jamie led numerous sessions at state conferences regarding emerging topics in the transportation planning for GPA as well as other organizations with which she was involved.
Many planners describe Jamie as their mentor and even to say that they would not be in their position without her help, advice, reference or hiring them. Jamie was generous in her ability to assess someone's talents and strengths to work through a direction and how to go about it. Many planners credit her for their chosen career path, current employment or achieving their AICP status as results of her advice. The common themes I have heard or read this past week were on target with how she treated them, how she mentored them, what she saw in them, and that she was always considered a friend.
To me, for the past twenty years, Jamie was a good friend, mentor and a role model. She is one of the few people that I try to emulate – especially her professionalism and high standards – whenever I am challenged with a difficult situation. Talks with her always left me feeling encouraged. I do not remember how we became friends, but I know it was instant and unwavering. She believed in me and saw more in me than I could ever recognize until after I followed her advice. From the comments and stories shared this week, it turns out we all felt the same way. Jamie's special gift was that she saw the best in us, our potential and treated everyone equally. Her kindness, generosity and devotion to her fellow planners, students, and friends was limitless. She will be greatly missed.
In your reflections and memories of Jamie, think of how she influenced you, your career, your education, and possibly your community. To honor and memorialize Jamie's giving and teaching spirit, a scholarship fund is being organized at Georgia Tech. Your contribution will help Jamie's legacy live on so future planning students can have the opportunity to start their planning career from Jamie's influence. Please make checks payable to the Georgia Tech Foundation noting the intent to support scholarships in Jamie Cochran's memory and send to: Ms. Susan Sanders, Director of Development; College of Design; Georgia Institute of Technology; 245 Fourth St. NW; Atlanta GA 30332-0155.