Policy + Advocacy September 2021 Updates 
Georgia General Assembly (GGA)
Wondering what's brewing as the Georgia General Assembly (GGA) prepares to return to session in January 2022?  During the off-season, several special committees met to discuss priority topics and prepare for the upcoming session. The GPA Policy and Advocacy Committee has been keeping track of these topics, which include the rising cost of construction materials, arbitration processes for annexation, e-commerce and freight infrastructure funding, and healthy foods/food deserts.
Also, join us at the GPA/TAPA Fall Conference, October 6 – 8 2021, where members of the policy and advocacy committees of both Georgia and Tennessee chapters will be presenting a session comparing not only what has been happening in their respective state legislatures, but also on their policy and advocacy efforts.
Learn More about GPA's Policy Priorities
What's Happening in Infrastructure Legislation?
The legislative process is following two tracks, the bipartisan infrastructure bill (including transportation reauthorization) and Budget Reconciliation (where the money is). The Senate passed the Infrastructure Investment and Jobs Act (IIJA) on August 10. The IIJA includes a full five-year transportation reauthorization and a supplemental infrastructure bill. The $1 trillion proposal includes $550 billion in new spending in addition to spending already authorized. The Senate-passed IIJA represents the most significant investment in American infrastructure in decades, with increased funding in a number of APA priority areas (broadband, active transportation, transit, safety, resilience, equity, as well as programs for local and regional planning). 
On August 24, the House passed the fiscal year 2022 budget resolution with instructions to draft a $3.5 trillion infrastructure reconciliation package. The House also agreed to schedule a Sept. 27 vote on the bipartisan IIJA. The forthcoming reconciliation bill could include previous proposals for transit and EV funding, and a set of community development and clean energy tax incentives. See this article for more info on the House process.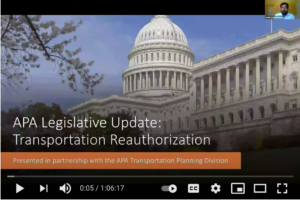 GPA President-Elect Whitney Shephard is presenting an overview of the IIJA and Reconciliation in District 9 this month, featuring a Q&A session with Senator Reverend Warnock's infrastructure staff. If you're interested in more detail, she is happy to share materials. Just send her an email. You can also watch the APA Legislative Update and read more from APA here. 
The APA 2021 Policy and Advocacy Conference will be held virtually on September 29 – 30, 2021. Interested in participating? Learn more and register.