Historic Chicopee Mill & Village and Chicopee Woods: A Comprehensive Perspective
April 4, 2019 @ 2:00 pm

-

8:00 pm

Free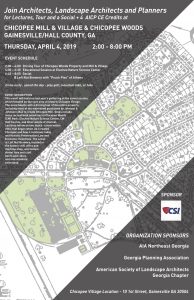 This event will build on last year's gathering of planners, landscape architects and architects at this same location in April, which focused on the core area of historic Chicopee Village. The event, offering 4 hours of AICP credits, begins with a driving tour of the entire property, including most of the watershed purchased by Johnson & Johnson (J&J) to create Chicopee Mill. Stops include the many recreational amenities in Chicopee Woods (CW) Park, Elachee Nature Science Center, CW Golf Course, and other points of interest. Lectures follow at Elachee and cover two topics: (1) the conservation ethic that began when J&J created Chicopee and how it continues today; and (2) Historic Preservation Law and Economic Incentives. The social at Left Nut Brewery, located in the historic mill office and machine shop, will feature pies and sides from "Pouch Pies" of Athens and craft beers and ciders and non-alcoholic selections.
Participants are encouraged to make a day of it and come early. Play a round of golf; explore the challenging mountain bike trails, maintained by the local chapter of SOBRA (Southern Off-Road Bicycle Association); walk or bike the Chicopee segment of the Highlands to Islands Trail network, a paved concrete trail; or hike the nature trails in the Elachee preserve.
This event is FREE to members of GPA, GAASLA, and AIA.
Earn 4 hours of AICP credits.